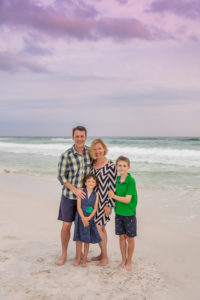 I continue highlighting a professional part-time working mom each month from the interviews I did for the book.  So far the moms I've highlighted have been entrepreneurs, who haven't worked in the corporate world. Stacie Buckley has a different kind of story, which I think many working moms can relate to in the corporate world. If you're looking for change and more work-life balance and are working full-time, Stacie's change of career model can give you some ideas.
Success in the Corporate World Came at a Price
Stacie Buckley is an Atlanta-based information technology (IT) consultant who worked for sixteen years in various operations roles in multinational media companies and somewhere in there, took a break to do a two-year MBA. Her roles within the sports and media industry were demanding; so much so that at one point, she had to cancel a family vacation. And that led her to consider other industries.
Changes at Home Can Impact Career
She found a great role at a major beverage company, but things at home changed. Stacie realized she wanted to spend more time with her then young daughter due to emerging learning challenges. She eventually found a home with a consulting group she had collaborated with while employed by the beverage company. She had spoken to their leadership team while they were doing consulting work at her then current employer. Once Stacie decided to join their team, she was working on projects with her previous employer with someone she knew who knew her and her skills. It helped to have someone who knew her work ethic and product while transitioning to a part time role.
What Does Professional Part-time Work Look Like
Stacie works about twenty to twenty five hours per week on project-based work (with a few standing calls). Her schedule breaks down to about four to five hours per day. In comparison to her life in the corporate world, she works less than half the hours she worked before and makes only a little less salary. Stacie realized she needed help to keep everything going smoothly on the home front and has a part-time nanny to help with her kids.
Benefits of the Part-time Career Approach
The biggest benefit of her transition to a part-time career model is that she can do great work, but it's not all-consuming and she didn't have to prove herself with a new team. Stacie has been able to continue to develop skills and get great experience, setting herself up to continue her career growth, even if it's not as quick paced as during her full-time corporate days. It's the right mix of career and time with and focus on family. The IT consultant has time with her family, at home and at her children's school. Stacie shared how much better her family's quality of life is and how she is more present with her family. She has time to exercise. And she has time for passion projects, like helping people with their adoption journey or advocating for women's heart health.
Advice
Stacie's advice for anyone interested in working part time:
Network. Maintain relationships because you never know where those relationships will lead down the road.
Create a win-win scenario. You want situations to be mutually beneficial. Know what your team and senior leadership need. Be aware of what you and your family need and ask for those things.
Don't make hasty decisions. Take time in making decisions, both when looking at a transition and during the actual transition.
If you're wanting to hang out and chat with more moms like Stacie, come join us in the Mompowerment Facebook group.