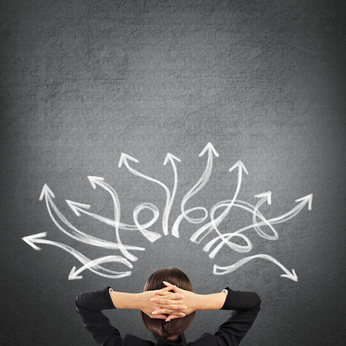 As working moms, we're all busy. Our lives pull us in all different directions every day. Some days we have it together and we shine and some days we barely hold on. We go from one thing to another to keep all the plates spinning at the same time. And with the perfection we see on Facebook and Instagram and the 5-figure launches we read about, there is the added pressure to make everything be perfect. It feels like everything we do – professional and personal – requires 100%+ effort.
The Infinite To Do List
When you're a working mom, you're often moving from one thing to the next to make things happen in limited time. Moms in the interviews I conducted describe taking calls in the car in the pick-up line when they're waiting, in efforts to use every hour of the day and still be the one to pick up kids from school. We go from professional to mom, trying to ensure we hit out rhythm and make it all come together. What working mom doesn't have a list of things to do that is longer than her arm? (If you know one, I'd love to talk to her and hear her secret.) As you're focusing on your career and family and all the other things, how do you even know when something needs to change?
The Need for an Intentional Pause
One of the concepts that really struck a chord with me during the 110+ interviews for the Mompowerment book was about the idea of "breathing space." A part-time doctor of internal medicine in Austin, Texas shared how breathing space in her life was one of the benefits of working part time. That need for breathing space is true for all working moms.
What is "breathing space?" For me, it's an intentional pause that I take in my day. I might use it to assess the moment and figure out next steps. I use breathing space to overcome of the overwhelming feeling when my to do list seems to only get longer. That pause can really help me think through challenges. It can also help me understand what I really need in that moment, on any given day, or for the week in general.
Intentional Pauses and Change
Why talk about breathing space during a month dedicate to change? How do we know what to change when we're actively moving through everything and don't take a moment to think through changes? And, without that pause, how do we know what we want to change or why we want it to look different? How will we understand whether we need a small tweak or a huge shift? Can we understand our feelings about it all if we're constantly moving from one thing to the next without a moment to assess? When do we have time to gather information and analyze our findings?
We need purposeful moments to understand next steps before we make changes or change simply becomes another thing on our to do list. It likely won't lead to something meaningful or truly helpful if that's the case. Use the intentional pause to understand what are the right changes moving forward and how to make those changes happen. This is the perfect moment to understand the resources you need and the goals you want to establish. Perhaps you're really looking for a mentor or sponsor (Check out Blog I & Blog II on this). Maybe you need a business coach. You might be looking at deeper understanding of a topic, which you can do through a course and/or book. Use an intentional pause to understand what you need to make change happen.
Pause Before Planning
On a broader level, breathing space is integral to planning. If you're looking to make changes in your career or business in 2018, planning starts now. As you start to consider what you want 2018 to look like you might buy planners, start joining challenges, and look to peers or coaches for advice. All of these things are important, but we need that first step to be an intentional pause so that we look around and know what we want to change. We want the planning, that will likely have some element of change in it, to have an impact.

How Intentional Pauses Help in my Business
In my case, without breathing space, the Mompowerment book probably wouldn't exist. If I simply kept going in my consulting business and didn't look around to think about what was missing for other moms interested in the professional part-time approach, I wouldn't have written a book. I wouldn't have noticed a lack of stories about professional part-time working moms.  I wouldn't have thought about creating a community.
With client work that needs to be done and a pipeline of new projects that I need to develop, it's easy to keep moving in my business and simply get things done. And there is also added noise about all sorts of things in the marketing industry, which could further distract me. I won't take the time to understand what is needed and what's missing in the industry that I can help address with my knowledge and experience. I take an intentional pause or I'll simply keep on moving from one thing to the next.
Breathing Space and Professional Part-time Working Moms
Many of the moms I interviewed referenced a moment when they knew they needed to change their career approach.  Their breathing space enabled them to assess the situation and really understand what they wanted and needed and what they're family needed and even what they're employer/team needed. If they kept doing, they likely wouldn't have made the change or it would have taken a lot longer. They might not have started their businesses or changed departments. In addition, several moms talked about doing the part-time approach to help them make other adjustments in their career like learning something new or making a career change. That pause helped them know what they needed to change and what was working that didn't need any adjusting.
 *  *  *  *  *  *  *  *  *  *  *
In this time of change and planning, how are you taking a pause? What would you do if you had more breathing space in your life? I'd love to hear your thoughts in the comments.