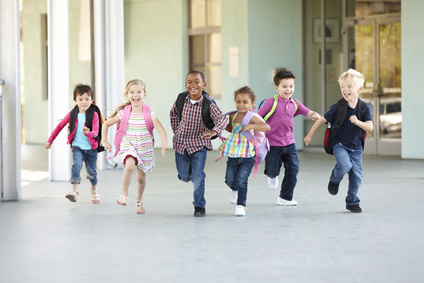 For most of us, the school year is right around the corner. I share my morning routine in hopes of helping other working moms get ready for back-to-school and get the most out of their morning routine on schools days. My tips and tricks will hopefully get your morning routine smoother.
During the school year, I have to get us ready and out of the house by 7:15/7:20 and to school by 7:30/7:35. Some days getting two young boys (and my hubby) out of the house feels like I'm herding cats, so I'm trying to limit that feeling. Can you relate, mamas?
Getting Back on your Sleep Schedule
If you've been off your sleep schedule this summer, which is often the case, now is the time to start adjusting sleep schedules. Get kids to sleep 15-20 minutes earlier each week or every few days, depending on how off your school bedtime you are, until school starts. It's really hard to adjust the weekend before school, so start making small changes now and it will likely be a smoother transition.
Our boys are up at the crack of dawn pretty much every day, so I'm not concerned about getting the boys up. Even in the summer, we don't really change our sleep time. It's off by about 15 or 20 minutes. Our boys are starting to sleep in a bit more – until 6:30/6:45 versus the usual 6/6:15 –  which might give me a bit more time to get in gear on my end once school starts. Since this is a recent change, I'm not holding my breath that it will continue.
Take Time to Hit Your Stride
For the first few weeks of school, we'll make small adjustments and get into the rhythm long-term. That's how moms do it, right? Our struggle is that once the boys eat breakfast, they have had time to play before we head out for summer camp. We won't have that play time anymore to make it to school (elementary and pre-school) on time. At the beginning, I will constantly have to remind them of that fact. And I will probably have to dry many tears as we get use to this new routine.
I admit that I'm hoping this lack of morning play will help avoid the morning mess with toys. The morning mess is one of the things I have really struggled with in the summer. I won't miss this part at all. When you work from home, it can be distracting to see these messy areas, at least for me.
Prepare the Night Before
One of the things that helps in our house is to use the night before.
Lay out clothes night before. Both of our boys have opinions on what they wear, so they lay out what they'll wear the night before and I can provide input if necessary (e.g., picture day or it's going to be 100 degrees, so no long sleeve shirts, no matter how cute or fun). This could even include you figuring out what you want to wear the next day. Changing your clothes can take up valuable time, especially if you're realizing you don't like how something fits and must change your clothes more than once.
Put stuff out and together, ready for the next step. For example, the lunch boxes go on the counter with containers ready. It cuts down on the rush in the morning, lets you know you have lids washed, clean containers, etc. And, if you need extra help from your significant other if something comes up, you don't have to explain where things are or what to use. It's all ready, waiting for the next step.
Can you prep anything for lunch the night before? Some moms I know prep sandwiches, although I don't do that. I don't generally cut up fruit until the morning of because it can get mushy, but even washing and drying fruit the night before will shave off time in the morning.
Get backpacks or baby bags ready. This includes diapers and any snacks that are in a package (e.g., granola bars). Our pre-school has us bring a change of clothes in a Ziploc bag that is left at school. If your school doesn't do that, include a Ziploc bag with an outfit that stays in your child's backpack.
Make sure everything is already labeled. This includes containers for food, change of clothes, snacks items, etc. Some things, like snack bars in wrappers are easy to use a marker on, but my favorite stick on labels are Mabel's Labels. I like the TagMates labels, but really any of the labels stick on everything, even after being in the washing machine or dishwasher a kajillion times. If they do come off because of little fingers (yep, my kids peel off the labels too), they don't leave a sticky residue. Do this labeling process now instead of the night before or the day before school starts.
Put things by the front door or in their place. Put items that need to go with you by the door or always in the same place (all our kids' items like shoes and backpacks go in the mudroom). This goes for water bottles, backpacks, folders, car keys, etc. Have a consistent home for these items. That way you're not looking for them in the morning and wasting precious time. This is for your stuff, that of your significant other, and your kids.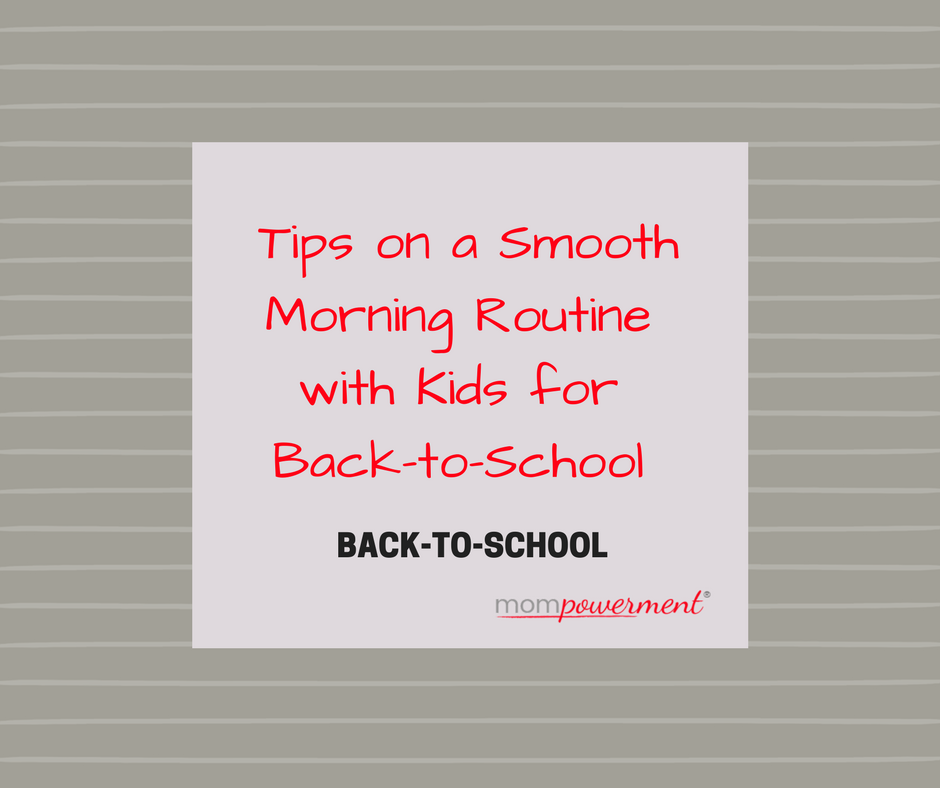 Getting Out the Door
Use a timer. Find yourself rushing with your kids to get out the door every day? I use a timer or alarm when I'm trying to limit time on something. That will work in this case too. Set two timers or alarms, one that goes off BEFORE you have to leave (e.g., 10 minutes before) and then another timer/alarm for actual walk out the door time. Make sure your kids understand what the alarms mean. (e.g., 1st alarm means it's time to gather all things, get shoes on, and have teeth brushed).
Have your kids count number of items. We need to remember 5 things: backpack, lunch box, snack, water, sunblock/bug spray (until the Texas heat finally eases up a bit). If you're wondering when we started this, we started at age 4. Huge help and a great tip from one of the pre-school teachers. It productive and confidence-building – win-win! We make sure we have everything before heading out of the door and the boys learn accountability and responsibility in a small way.
Bonus tip. Have breakfast-on-the-go options for the days when you're running behind. Maybe your child didn't get to bed until late and will need extra sleep in the morning. Maybe you overslept, which throws off everything in the morning. Maybe you need to grab something from the store for school. I make blueberry muffins and banana nut muffins and freeze them (check out the Mompowerment Pinterest board for these and other yummy easy recipes for on-the-go breakfast). In fact, I make these in double batches. I sometimes thaw them out overnight in the fridge if I know we've got a lot going on in the morning or you can set them out to thaw outside the fridge if you're up early. Or pop them in the microwave. And I've been known to make smoothies in double batches if we need breakfast-on-the-go a few days in a row. I put in all sorts of yummy fruit, especially banana and mango or banana and pineapple and mix in berries, carrots, and kale or spinach.
Ideas for Working Moms in the Morning
Want to start off your day a bit better? These ideas might help.
Morning check-in. See how you're feeling and make any adjustments to your day, based on that (e.g., you're tired, so you may need to give yourself more time or maybe you're stressed, so breathe more). It's a small moment of self-care that I can do daily before I even get out of bed.
Meditate. If you're feeling stressed or maybe need extra time for yourself, consider meditating. I'm talking minutes here, not hours. Or you can extend it for however long you like, without throwing off your schedule. Start with some deep breaths, which even helps to lower stress. My favorite tool to help with meditating in the morning or whenever is www.calm.com. A few minutes of meditation and I'm feeling better.
Exercise. If you have the time, get in a workout. I usually get in some exercise a few times a week. In the summer months and bookend months around summer, when it gets really hot, I have to work out early. Check out my thoughts on getting in more exercise into your routine.
Hopefully, these tips will help decrease stress and start the day off with more smiles for all! Want more tips to help you be more efficient with your time as a busy, working mom? Read my blog for more time saving tips to help you get back into the swing of things during the school year.
What does your morning routine look like? Do you have tips or steps that might help other working moms get their morning routine on track for back-to-schoo? I'd love to hear them in the comments.