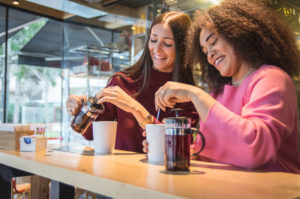 As a working mom, you're likely juggling all the things. Are you still focusing on your career advancement or has that taken a back seat to everything else? What are you doing to keep moving your career forward? No question about it, advancing your career isn't only about doing great work. You must advocate for yourself and it's incredibly helpful to have someone senior in your corner. I often hear about the need for mentors. I would argue that a combination of mentors and sponsors are both important to working moms.
What's the Difference Between Mentors & Sponsors?
In the simplest terms, mentors provide guidance on your career decisions and sponsors are more action-oriented when it comes to creating opportunities at work. Sava Berhane shares the difference between mentors and sponsors in her Fast Company article: "A mentor is an informal career counselor…and a sponsor is someone who can help advance [your career]." Essentially, you can bounce ideas off of a mentor, but a sponsor will open doors for you. In my own career and in the stories I heard in the interviews, it seems that both mentors and sponsors are important when it comes to advancing your career in the workplace. (Tune in for Part II where I cover the entrepreneurial perspective on mentors and sponsors.)
Your Tribe vs. Mentors & Sponsors
It's important to have a tribe you can speak with about your situation and challenges, regardless of what you want for your career at any given moment. It's great to have support from colleagues and those in similar roles. Even with a strong tribe, you still want those more senior influencers routing for you.
Working moms specifically need mentors and sponsors to keep them moving up in the ranks, but also to provide the guidance and support as it relates to being a working mom. Wouldn't it be helpful to get insights from someone who has already been there or has someone on their team in your shoes? Who doesn't want a person in her corner to understand her needs and help open the right doors? Yep, more than your tribe, those are mentors or sponsors. I'll cover each separately.
Peer Mentors
In addition to traditional mentors, you can also consider peer mentoring. Instead of paying to join a 3rd party's mastermind, what if you created an online or in-person group of people at around the same level in their careers and journey, who can mentor each other. I highly recommend including fellow moms or moms–to-be, who might be dealing with challenges you've already dealt with or vice versa. Many of the tips below apply to peer mentors as well.
Mentors and Professional Part-time Working Moms
I wanted to take a moment to specifically talk about mentors when you're a professional part-time working mom (or you want to be). Most moms I spoke with didn't specifically talk about "mentors," but many shared that they talked to other moms further along in their careers. These more senior moms had already made the transition to part time at their current employer or in the industry. The moms talked to these other moms who had already taken the leap and might have even transitioned back to full time. These more senior women acted as mentors.
Sure, a few moms suggested talking to another manager to understand your own manager's perspective. Ultimately, though, even these types of conversations are similar to those you might have with a mentor. They can help guide your path to transition to a part-time role and even the transition back to full-time if/when the time comes.
Mentors
So, now you get it. You're looking for someone who can be on your own personal board of directors. Yep, that means you can have more than one. You want more senior people, either at your manager's level or a few levels up, so they can understand what you're going through and give realistic and implementable advice. You want them to still remember how things were when they had a role similar to yours or at least at about the same level. If you're looking for a working mom, try to find at least one on your personal board of director who can relate to your current season of motherhood.
Where to Find Mentors
Have at least one mentor who is a strong advocate for working moms. Your mentors can be men or women. They might or might not be parents, but they will have good advice for you as a future (or current) mom.
Consider more senior people at your employer in your department or others. Perhaps they are people who led projects you worked on. Maybe it's a manager who has moved up. Look at up and coming leaders in your industry outside of your employer. Speak to people you hear at conferences or read about. Start those conversations and see if they lead to a natural fit for mentorship.
Tips to Have a Stronger Relationship with your Mentor
How do you make the most of the relationships with mentors? I share things that have worked in my experience and that I found while researching the book and having conversations with more than 110 professional part-time working moms.
Take your time to build these relationships. It's helpful to start having conversations before they become necessary. Maybe that's before you become a mom. Or before you transition to a professional part-time role. You don't want to find mentors while making changes if you can avoid it.
Be strategic. Find the right mentors to talk to. Set goals on networking like you do all other strategic areas in your life. Find a good fit for personality, style, and approach to career. Don't feel you have to mimic his or her career or work style, but you do need to be able to learn from it.
Have more than one mentor. It's helpful to have more than one perspective, maybe even from various levels above you. Remember, it's your own board of directors. Include people at different career stages as well.
Establish communication approach or style from the beginning. Decide when and often you'll meet. Maybe set aside a few dates even. Where will you meet? If it's a long-distance situation, what tool will you use to meet online? Will you have a more formal or informal approach?
Get the most out of each interaction. Be respectful of his or her time (and of your own) and prepare for your conversations. Know the points you want to cover and send an agenda beforehand if it's more formal. Be engaged during your interaction and use active listening skills.
Follow up and say thank you. Follow up after the interactions and say thank you to your mentor for his or her time, insights, advice, etc. A simple email or even a handwritten note is great.
Find the right fit. Decide what you're looking for. Don't force an unnatural relationship or personality fit. Find the right mentor for your needs. Make sure he or she understands your needs and goals. You'll know it's the right fit when you want to hear what they will say about a new opportunity.
Evaluate over time. Don't be afraid to make changes over time as your needs and that of your mentor(s) change. Keep in touch, even if you move on, because you never know when your paths will cross again. Maybe they become more of a sponsor down the road. 

Sponsors
Although I didn't realize it at the time, I often had a sponsor at the large marketing agencies where I worked throughout my career. They were often the senior lead on the team who were direct reports of the senior leadership team or on that team at the office or company. They saw something in me and were willing to help position my skills to new potential managers or recommend me for new opportunities. I considered them mentors, but they were so much more than that. Now I know they were actually more like sponsors.
Unlike a mentor, sponsors will promote your accomplishments and skills, help you make connections with more senior leaders inside and outside of the company, and help you get more exposure.
Finding the Right Sponsor
Now that you understand more about the role of a sponsor, the challenge becomes finding a sponsor that is the right fit for both of you.
Look at your current network. Analyze your current network to see if you have connections who are currently mentors and are at a senior level. Maybe it's someone who was previously a manager or even a manager's manager. They might not be at the company any more.
They showed an interest in your career previously. Sponsors must be willing to take on a more active role in your career moving forward, so think about conversations you might have had with senior leaders about your career path.
You've followed his or her advice previously. Look for senior people in your current network who have given advice that you have used and can show how their advice made a difference in your career. Let them know that and share the results.
Consider previous projects. If you've worked on a high-profile project in the past few years, consider reaching out to someone senior who seemed impressed with your work. He or she has already seen you in action and understands what you're capable of.
Find a sponsor whose legacy you can support. According to Sylvia Ann Hewitt's Harvard Business Review article, sponsors can be looking for someone to help support their legacy with the company or industry. If you can fit into their legacy and you're interested in their support, it might be the perfect fit.
What Can You Do for Your Mentor & Sponsor?
Both of these types of relationships should be a two-way street. How can you help your mentor or sponsor? Sure, they want to mentor or sponsor someone, but there is more to it. Hewitt suggests that you offer to share your knowledge or skills as it relates to projects he or she is working on. When in doubt, ask what he or she needs and how you can help. Share relevant articles that your read and explain why. Introduce him or her to the right resources, if it's not you. Be generous with your time and knowledge and share what you find.
Already have a relationship with a mentor or sponsor? How did you find him or her? How do you keep that relationship going?
Want to get more ideas on keeping your career moving forward? The Mompowerment book might be a great tool for you, if that's the case. Download a free sneak peek at www.mompowerment.com/introchapter1.