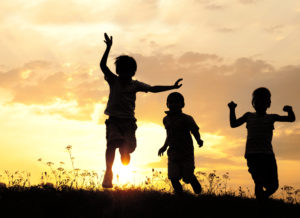 Kids are out of school. Maybe they're in camp or maybe you have hired someone to keep them entertained. They could be in daycare. Even with help, though, it's easy to become overwhelmed during this time of year. You can get carried away with the summer juggle instead of approaching summer proactively so that it becomes the experience you want for you and your family.
How can you avoid feeling overwhelmed? How do you create a summer experience that everyone in your family, including you, enjoys? As working moms, we're often strategic about our business, so how do we use that in our personal lives? Let's be more strategic and intentional with our time this summer.
Intentional Experiences
Do you want to do some big things or several smaller things over these summer months? Or maybe you want a mix of both. Be intentional with how you design the rest of the summer.
In my family, we're taking advantage of day trips nearby during the summer instead of doing a big trip to a far-off location. In our house, we must be intentional this summer because it's my husband's busiest time of year and planning for a book launch takes time and effort. Essentially, my husband and I are both slammed. We still want out boys to have a fun-filled summer, though. Their half-day summer camp ends at noon, so my time is about half of what I usually work between drop-off and pick up and any meetings I have. I want to make the most of the time I have and be intentional with the experiences our boys and our family have this summer.
I'm sharing what has helped us be more intentional this summer to get the most of my day as a working mom. Hopefully, some of these tips will help you.
Understand Your Desired Outcome
It might seem counterintuitive to start with the end in mind. Think about it this way: How do you know what changes to make and how to be more intentional this summer if you don't know what you're moving toward? What are you trying to achieve? Do you want it to be a time of fun for you and your family? Are you simply trying to wear out your kids (I can relate) doing something they enjoy? Do you want it to be a mellow summer? Are you trying to balance learning with fun? Essentially, what is the desired outcome of these months? You don't have to be 100% focused on only one, but it's helpful to know whatever you want in the mix.
For us, we try to focus on fun for our boys during the work week and adventures during the weekend. They are small adventures, but it's the newness of things – big and small – that our family enjoys.
What does that look like for your Family?
You now know your desired outcome. Take some time to brainstorm what that looks like for your situation. You want your kids to have fun, but what is your and their definition of fun? Is it swimming or going to a splash pad? Is it riding around on a bicycle? Is it learning something new?
What does the schedule look like? Are you aiming for one day a week? Every day? What can you actually make happen?
Do you need help making that happen? Is there a neighborhood older kid who can come over and play LEGOS for hours with your kids? Do you need to sign up for a few more camps? Can you trade off child care with a fellow mom in the neighborhood so both of your kids have playmates?
In our house, that means splash pads and afternoon swim time a few days a week after camp. The summer sitter might take the boys to the children's museum or play cards for hours with the boys or do the water play. On the weekend, we do early morning hikes (we're early risers and it gets holy cow hot pretty quickly in Austin) and try new restaurants and go to places we haven't been.
Get your kids on board
The final step is to share your intention with your family. Think about word choice when you're explaining things. You set the tone for how your family likely will feel. Be enthusiastic. Get a read on how they're feeling. Get their input so that you can make changes.
Make Sure You Enjoy the Summer Too
Don't only focus on being the activities director. Schedule things you want to do that you think your family will enjoy. We have concerts in the park that we want to attend and our boys love music. I want us to try some ice cream places we haven't been to before (I love ice cream!!!). I want to enjoy the moments together instead of trying to get things done to move on to the next task. Take the right amount of time to do things, which will likely lower the stress and maybe even increase enjoyment of activities.
For my husband and I, since we're trying to balance a lot, we do at-home date night. We grab wine, cheese, and yummy bread and eat after the kids are in bed. It slows down the pace and gives us a chance to connect and enjoy the moment as a couple.
The Intention of Self-Care
If you're like most families, you have a lot going on this summer. Don't forget about taking care of your own needs and self-care.
I'm trying to schedule in time for more moments for myself to focus on my own needs. I don't know about you, but I struggle to step back far enough from my "to do" list. Fit in what you need. Bubble bath? Outing with friends? Curling up and reading a non-kid book? Pedicure by yourself or with a friend? Whatever you need, schedule it.
If you want some ideas for self-care, this round-up on self-care might help.
What is your intention for this summer? What are you planning?