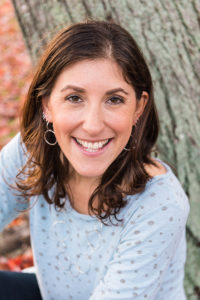 Wondering how to create a part-time business from the beginning, maybe even before being a mom? Bev's story might give you the right advice and inspiration.
Bev Feldman is this month's Mompowerment mom story. My interview with her was fun and incredibly interesting. She's a great example of how Millennials are shaking things up. If you don't know Bev, she's the owner and creative mind behind Linkouture, a line of eco-friendly minimalist jewelry.
Bev isn't only a powerhouse of everyday jewelry design, she is also a blogger and writer for several brands and websites. She's an all-round creative gal. And she is mom to a sweet, fun 3.5-year old girl, plus another baby on the way.
The Journey
What I found so interesting about Bev's story is how she started her business. Let's go back in time to before Bev was an entrepreneur. She started out studying psychology at Wesleyan. And after undergrad, she worked with autistic children at an elementary school. She also served as a summer counselor for elementary aged kids. She then went back to school to get a Master of Education from Harvard. While studying her graduate degree, Bev had an internship as a guidance counselor in an elementary school.
After finishing grad school, Bev started a new job in a family community program. During that time, she rediscovered her love of jewelry-making. She enrolled in a jewelry metalsmithing class and taught herself how to make chainmaille. She decided to take the plunge and open an Etsy shop to try to sell her jewelry. After a little over three years working at her community job, Bev left her job, put her Etsy vacation notice on, and traveled in South America with her now husband for more than five months.
She came back, ready to work on her jewelry business, started looking for a new job, and also started blogging. During this new job search and while growing Linkouture, she made some decisions about her short and long-term future. She realized she wanted to work from home when she eventually became a mom and designed her business as a part-time endeavor. About 1.5 years after returning from her trip, Bev gave birth to her daughter.
On top of all of that, somewhere in there, Bev wrote Busy Moms Guide to Creativity, a book to help moms bring out their creativity (seems like the perfect marriage of her creative streak and her education background). A long-term goal is to focus on creating an in-person space where moms can develop and show their creativity as the next level on the journey that she began with her book.
What does Work look like?
Bev works about 25 hours per week. That is broken up over the course of the week. Each day she wakes up about an hour before her daughter does. Bev works for about two hours each day during naptime – yay naptime hustle! And then one day a week, Bev's mother-in-law helps out for the entire day. And Bev is able to work less in the summer and more during holidays, which closely aligns with her business' natural cycle.
Benefits and Challenges of Entrepreneurship and working Part-time
As an entrepreneur, Bev is happy and feels fortunate. She is also able to separate work and family. She says, "I love time with my daughter." Yet, she enjoys having an identity outside of being mom: "I always knew I wanted more than being a mom." So many moms I interviewed said something similar to this.
Entrepreneurship, when you're a mom, can be hard, though. Bev talked about wishing she could have more time to let the creative process happen because sometimes it's hard to work within her time constraints. Her biggest challenge was the punctuated schedule, especially when her daughter was a newborn. They didn't really have a routine yet and Bev was trying to get work done. Now, Bev is used to the punctuated schedule, so she almost needs to break up time when her daughter is away for long stretches
Advice
Figure out the hours when you work best, especially when you consider your family routine
Stay flexible because things will come up
Find systems that work for you. For Bev, it's her To-do list on paper + Evernote. She has daily, weekly and monthly To-do's to keep her on track
Create a routine for yourself. Bev got ideas from Miracle Morning for her own morning motivation.
If you're wanting to hang out and chat with more moms like Bev, come join us in the Mompowerment Facebook group.