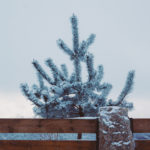 I love the holiday season. But no matter which holiday(s) you celebrate, it's easy to become overwhelmed this time of year. And it seems easy to feel the rush and get carried away with it all instead of thinking through what you want the season to look like.
I confess that the shopping doesn't overwhelm me because I shop throughout the year for holidays and birthdays. When I see the perfect gift for someone, I buy it and squirrel it away. And, it definitely lowers the stress level at holiday time (and birthday time).
What does overwhelm me is the sheer volume of stuff our boys receive, especially from grandparents. And, we have the double whammy of both of our boys have birthdays relatively close to the holidays. Our younger son's birthday is in late October and our older son's is mid-February. It leads to lots of gifts close together. And both sets of grandparents want to give STUFF.
Why We're Creating Intentions This Holiday
We were on vacation earlier this year for almost two weeks and we had very little stuff with us. We were too busy having new experiences and seeing new things to even focus on the little stuff we had with us. My husband and I realized that last Christmas, the focus leaned a little too far toward stuff, and not enough toward experiences and enjoying the holidays and our extended time away confirmed that. We decided to change things this Christmas for our boys and be more intentional with our gifts and the overall experience.
Intentional Experiences
Our intention for this Christmas and moving forward is to focus more on experiences. We're taking advantage of day trips nearby during the holidays instead of doing a big trip to a far-off location. Our younger son loves Christmas lights (OK, I admit I'm a fan too). Why not see huge lights displays in nearby towns that have become a big source of pride for local residents? And we can check out a museum or have dinner at a new place. It helps us with another year-long intention of creating adventure for us as a family.
More Experiences and Less Stuff
From a gift-giving perspective, we're asking for experiences from the grandparents. One set of grandparents is getting us our annual children's museum membership. The other set of grandparents is doing a fun Polar Express train trip and they are the ones taking the boys on the train and to lunch, so my husband and I get several hours to prep for an event at our house. Our boys are big fans of trains and we get the prep time without kids around, so win-win!
What are we getting our boys? We will focus on gift cards for experiences with friends; things like movie gift cards, bowling alley and roller skating rink. We want him to have fun with friends, making memories, instead of playing with stuff in which he'll lose interest in a few days or weeks. And he'll get a few things to open that he can play with, but it's much more about experiences, moving forward. Our younger son will get cooking classes at a children's "cooking school" and music classes. He will also get a few more things to open and play with because he's outgrown some of his toys and needs some new stuff. And besides, it's hard to do experiences for a 3-year old, beyond ones we already do (e.g., gymnastics and swimming).
Volunteering as a Family
Another intention this holiday is for us to start volunteering as a family. We want to focus on giving back. We are very fortunate to live in a great place, have a home we love, and a life we enjoy. We get to spend time with family and friends having fun, but not everyone does. We pass by homelessness almost every day. We want to start giving back as a family to the community that we love so much. I've volunteered since high school, but there are limited options to volunteer as a family. This year we're all going to deliver meals through Meals on Wheels, a group that feeds the elderly, and get involved with Mobile Loaves and Fishes, an organization that feeds the homeless. We're going to start this holiday season and continue during the year. I hope to find groups where our boys can help other children.
Making Sure to Have Fun
And, our final intention is to have fun as a family (my husband and I are trying to work on this more as a couple specifically as well). We will do some baking together, some hiking in the cool whether, and a bunch of exploring nearby towns. Maybe we will listen to Christmas music while doing crafts or building with LEGOs. We want to enjoy the moments together instead of trying to get things done to move on to the next task.
The Intention of Self-Care
I have my own intention for the holiday season. I'm trying to take a few more moments for myself to focus on my own needs. I don't know about you, but I feel like I rarely step back far enough from my "to do" list to full enjoy the holidays. Renee Trudeau, who wrote a book on self-renewal, has a great post on being kind to yourself this holiday season Permission Granted: 5 ways to find rest this holiday. I'm going to fit in reading a book, journaling, taking a bubble bath with a glass of wine, or simply having an at-home date night with my hubbie with some wine, cheese, and yummy bread.
Want to know more about how to set up your own intentions for the holidays and beyond, check out my how to blog so you can make your own intentions.
The power to choose what your holidays look like. What is your intention for the holidays? Are you going to make any changes?