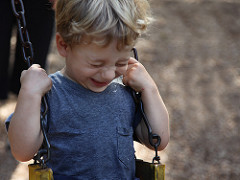 I've blogged about slowing down in summer to enjoy time with your kids. Part of how I'm able to do that is that I keep planting seeds for things to come in the fall. August can be a great month to focus on networking to line up new opportunities for when the school year starts up. It's also great to start having those conversations in late summer if you're looking to make a change in your career model in the fall after kids are back in school.
Working Moms Need to Network
If you're looking for a professional part-time role, networking is important. It came up in countless interviews and is definitely the #1 piece of advice that successful part-time working moms have shared.
Entrepreneurship also happens to require a lot of networking. As an entrepreneur, I always need to be connecting with new people and even old clients to keep my pipeline full of opportunities.
How do you balance that with your child's needs? What happens if you still want to connect with new people and your kids are at home this summer ?
What is a Networking Playdate?
What about playdates with the double duty of networking opportunities? Yes, I'm talking about networking playdates. We all have limited time. That way you're not taking time away from your kids or having to coordinate to find a babysitter. And, if you're asking another mom you'd like to network with to take time away from her kids, what if you could both network and let your kids play together?
Pick a fun spot for kids – playground, park, splash pad, or whatever works. You want somewhere the kids are generally safe and can play together with your networking partner's kids as well. All the kids are entertained. Moms get to have general oversight, but kids will generally play together. And, you get to network and probably learn some things in the process. Seems like a win-win for all.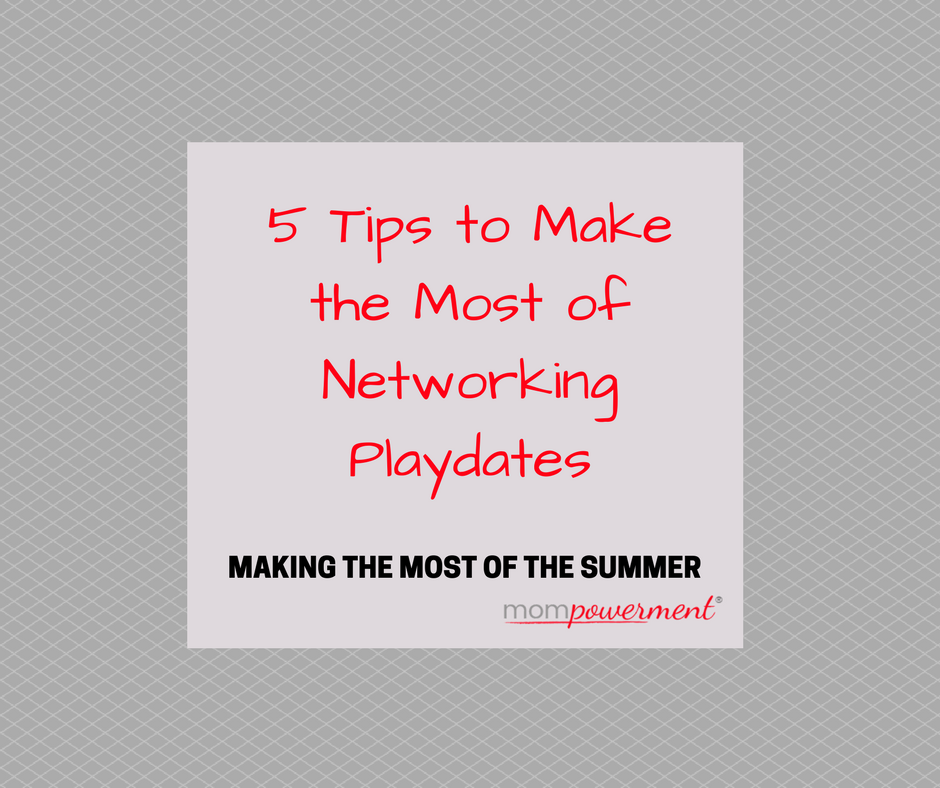 5 tips to get the most out of your networking playdates:
How do you make the most out of this time and try to ensure that they're successful? Here are some tips so that you can make the most of this time:
If your kids are the about same age, great. If not, do your kids play with kids who aren't their own age? Skip the networking playdate if your kids don't want to play with kids who aren't their age or choose a good spot for kids of a variety of ages. You want a new location that all the kids find fun without mommy's constant nudging and probably without mommy's constant attention.
Make sure your kids aren't tired or hungry and try to avoid times when this will be the case (e.g., skip afternoon get togethers if your kids need a nap). I think this one doesn't need any explanation since you already know how this works.
Take care of logistics and know the basics of the location if you're the one initiating contact or suggesting the location. What time does the place open/close? Are there restrooms and, if yes, where are they? Is it shaded? If not, bring sunblock for all the kids. Is there going to be loud music playing? Is it fenced in or is it attached to an area where kids can easily get lost or wander off?
If you are receiving all the benefit for this networking interaction, pay for whatever your networking partner and her children get. Pay for a drink, treat for the kids, etc. It's a small expense. It always surprises me when people don't even offer to pay for a coffee when someone asks me to coffee for only their benefit. It tells a lot about their understanding of business etiquette.
If the place you're going doesn't serve food and beverages, take snacks that have widespread appeal for moms and kids (e.g., cut up fruit and maybe something kids love like animal crackers) and avoid the unusual things your kids love. It seems like anytime kids start playing, one says "I'm hungry" and they all nod their heads, even when they've JUST eaten. The idea is to take something to give to ALL the kids, not only yours, whenever they do get hungry. Because they will.
And, finally, enjoy yourself and don't stress too much. You're being productive and your kids are occupied, most likely having fun. It's a good moment for all.
What happens if you're looking to work and not network, I share my advice on working playdates. And if you're looking for more information on easy networking opportunities as a working mom, check out my free guide on Networking Where You Are. It's especially helpful for moms interested in a professional part-time role.
Happy summer networking! Have a tip on combining playdates and networking? Leave a comment and share your good and bad experiences so that we can all learn.