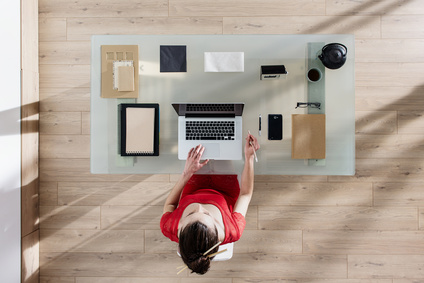 Do you need to review your online persona? When did you last make any changes or update your social media accounts and profiles?
As we get closer to the start of the school year, maybe it's time to think about your online presence, especially if you're interested in making career changes once kids are back in school. It's especially important if you plan on networking as kids start the school year. And for this blog, I'm sharing a bit about my own personal branding approach and putting on my marketing consultant hat.
We are each a brand, a personal brand with a voice, a persona, and a story. Do you show off your personal brand online, including the images you use and the words you choose? And, when I say online, I mean everything online: Facebook, Linkedin, Twitter, Instagram, Pinterest, etc. You get the picture.
We're going to focus more on the career side of your online persona, specifically LinkedIn, Twitter and Facebook.
For LinkedIn
Is your current job info updated? Has your role grown? Has your title changed or even the company you're with? If any of these have changed, make sure the updated information is reflected. We all can forget to include new information or it simple falls off of our to-do list, but it's helpful to keep it current. You never know when you might want to link with someone online and you don't want to have to make those changes in a rush because you might have incomplete information or make mistakes.
Looking to make updates, but not sure if you need them or not? These ideas might help. Let's start with your strengths. Once you think through what they are (maybe focus on 3-5), have you reflected them in your professional profile? Do you use action words and show results in your profile? Is your role and what you actually did part of your profile or is it more of a job description? How are you reflecting new roles and responsibilities in your current role, even if they're not part of what was in your original job description?
Is your volunteer work reflected and, if so, does it focus on your strengths as well? Are the skills you have gained reflected? For example, did you manage a team, develop marketing materials for an event, or negotiate contracts with vendors. These are all real-world skills. Don't discount them.
If you're wondering if LinkedIn is important enough to get your attention, consider that most recruiters I've spoken to in the past have shared they won't look at a candidate seriously who doesn't have a LinkedIn profile. Emily Kapit, 3X Certified Master Resume Writer & Leading Career Strategist, shares: "In today's world, regardless of sector and level – and whether or not you are actively engaged in a job search – it is imperative that you be on LinkedIn with an updated profile and one that is not a duplicate of your resume content. And she adds that this is for: "job seekers, those happy with their current role, [and] entrepreneurs." You can check out Emily's LinkedIn profile to see how it should be done. And if you're not on LinkedIn yet, it's time to make it happen.
For Twitter
When it comes to Twitter, your account might be more personal or more professional. Only you can decide which is more appropriate in your situation. Either way, is there a way to integrate your strengths into your account? Do you highlight these strengths with what you share? Do you need to update your Twitter profile or even your Twitter handle to be more professional if you're trying to be more career-focused on Twitter?
Facebook
Facebook can be a tough one. Maybe it's not about what you share, although I would definitely think through what you're sharing online. Maybe it's more of who you share it with. Can you start putting in place more privacy settings instead of sharing everything with everyone? Companies these days definitely look at your Facebook profile, so consider that. Can you maybe even set up a Facebook business page if you're trying to highlight an aspect of your expertise? That way you can drive people there instead of friend them. These are personal choices that only you can make, so I'm sharing some things to consider.
For Other Social Media
Make changes to your other social media, using these same concepts and approach if you're trying to be more professional or looking at an internal or external job change. While you might not think everything online needs to reflect your personal brand, remember that more and more companies are looking to social media when they consider you as a candidate for a job, even if you're moving within the same company. Or maybe you're looking to partner with a new company/group or get a new client. It might even be that you're hiring someone new on your team. In all these scenarios, people who don't know you will likely be looking at your holistic online presence.
Once you update your social media accounts and online profiles, you're ready to start networking. If you want more ideas on networking where you are, download my free guide.
Are there changes you're trying to make in your online presence? Are you trying to integrate specific strengths, concepts, or new skills? I'd love to hear from you in the comments about how it's going.