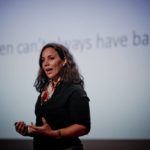 Speaking
Are you interested in hearing more about the perspective of part-time working moms? Or maybe want to have someone for a panel or a speaker at your company event about increasing work-life balance? I can share information from years of research, talking to other moms and even from my own experience.
I have experience with smaller working sessions of 10 or less people for companies and organizations. Over the years, I've been the keynote speaker with audiences of hundreds. I've presented PowerPoint to intimate audiences for training and senior leadership alike. Not looking for an in-person presenter or participant or have worldwide or nationwide teams? Have me do an online seminar for small team or hundreds across the nation. I've done both.
Contact me with more details about what you're looking for and I can share my rates and availability.
Typical topics include:
Creating more work-life balance
Changes in population that are starting to impact the workforce
Why companies should start considering alternative work schedules for moms and employees in general
Time management tips and ideas
Productivity — being more productive and the challenge of measuring employees by hours alone
Consulting for Companies
Are you a company trying to create greater work-life balance for moms or for employees in general? I have talked to over 110 moms and have done extensive research over the course of several years in how moms have successfully created part-time opportunities at small to large companies. I can share the benefits and challenges of working a reduced schedule as well as what moms are looking for.  Contact me and we can discuss how I can help your company create these opportunities as well.
Media
If you are looking for a resource to share more about professional part-time working moms or work-life balance for an upcoming story, whether in print, online, or for radio or TV, please contact me. I've been quoted in major publications and been interviewed by more than a dozen podcasts.
Helping Moms Become Mompreneurs
While some employers are incredibly supportive of moms who want to work part-time, some companies are not. If you're realizing that you need to make some professional changes and maybe starting a business is the way to go, I can help you. One of the first steps that many entrepreneurs take is creating a business plan. I've been creating business plans for more than 10 years for small and large businesses. I'd love to help future mompreneurs create their own plans.
Interested in a webinar on creating your business plan? Email me if you'd like to be part of the next webinar on how to create a business plan, using the template.